FranLink System™
Powered by the Franchise Broker Association

Come Join Our Green Team!
Enovana Green Cleaning is proud to offer house cleaning franchise opportunities utilizing our proven and systemized way of doing business. For nearly 10 years, we have been offering home cleaning with an eco-friendly twist. Our goal has always been to use all-natural products to help people in our neighborhoods live cleaner, healthier lives, and we can't wait to bring our services to your neighborhood as well.
Since first starting a house cleaning business in 2007, Enovana has been at the forefront of natural, green cleaning to better protect our environment while also serving our loyal customers. As the market for environmentally friendly products and services has grown over the past decade, we have continued to develop our house cleaning franchise system to take advantage of that demand, and our success has been tremendous. Now we want to share that success with owner-operators who share our passion for green cleaning and customer service.
For almost a decade we have developed and refined our business. Our founder Joe McCutcheon has created a high-quality home cleaning service franchise, using only natural cleaning products, while providing the highest in customer service. We use only all natural products including our proprietary green cleaning soap, Castile laundry detergent and reusable cleaning towels. Enovana cleaning franchises' fleet of vehicles are now all hybrid, low emission vehicles that further serve our mission of being as environmentally friendly as possible.
Enovana is currently offering a $5,000 discount on the initial franchise fee through August 2017.
Our Green Cleaning Products
We Love Green
At Enovana, we take the environment and your health seriously. We strive to only use natural, environmentally friendly cleaners and products that work without harsh chemicals. Re-usable towels and cleaning cloths take the place of paper towels and even our fuel efficient vehicles are better for the environment!
Our Products
Our green soaps are made from earth-friendly materials. All cleaning products are ammonia, chlorine, phosphate, and synthetic fragrance free. In place of harsh chemicals, our cleaning materials utilize vinegar, castile soap, essential oils, and baking soda. Enjoy better results and a fresher clean while doing something good for the planet and your home.
Better Environment
Eliminating harsh chemicals and disposable cleaning materials, Enovana makes cleaning your space an earth-friendly job. Our vacuums are HEPA filtered and our from scratch green laundry soap provides clean, fresh towels we use again and again. Even commuting is important to us as all our vehicles get at least 30 miles per gallon.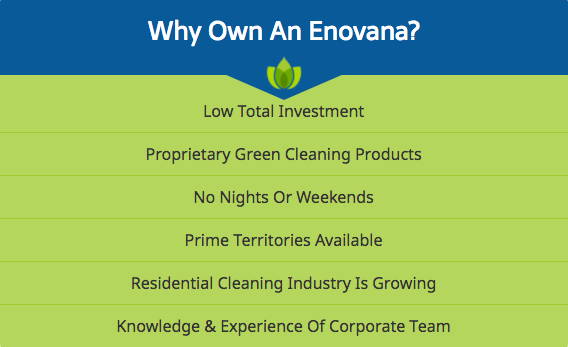 Franchise Support
We're Excited To Share Our Success With You
At Enovana Green Cleaning, we take great pride in how we treat our customers and their home. We take that same pride in how we support our Franchise Owners. We know that residential cleaning services is an industry that has been established for a long time, but at Enovana Green Cleaning we provide the system and support to allow our franchisees to differentiate themselves in the market as we have over the past decade.
Enovana's Franchise Support Team will be there to offer guidance, training, and support to provide you with everything you need to deliver the high level of service that the Enovana brand promises.
Basic Franchise Info
Average Investment:
N/A
Minimum Investment: $66875 - $103600
To see this information click the button below!
Min. Liquidity: 15000
Years in Business: 2007
Open Units:
In-House Financing: Yes
Lead Assist: Yes
Coaching: Yes
Request Information